Philips Hue Motion Sensor
or make 4 interest-free payments of $16.25 AUD fortnightly with
More info
---
---

Turn on Your Lights - Triggered by Your Motion
Add a motion sensor to your Philips Hue system for convenience, peace of mind and energy saving. Battery powered and completely wireless, so you can place it anywhere in your home. Easy to configure via the Philips Hue app.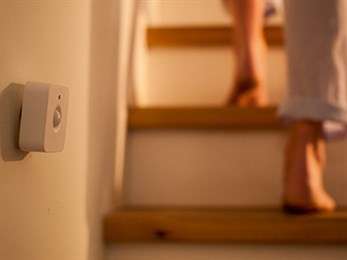 Automatic Motion Detection
Connect the Philips Hue motion sensor to your Philips Hue bridge via the Philips Hue app, and it will automatically turn on your Philips Hue lights when you enter a room. Perfect for your hallway, bathroom, basement or garage. You can choose in the app which scene or light setting should be triggered when motion is detected. The lights will turn off automatically, when there is no longer motion detected.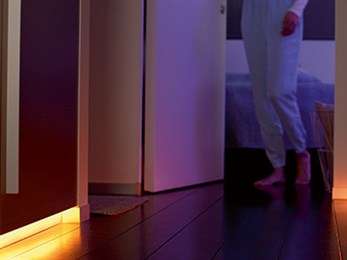 It's possible to set different light settings for day and night. During the day, the sensor can trigger crisp white light to help you see better. At night, it can turn on a gentle night light when you, your partner or child gets out of bed. Just enough to help you navigate in the dark, without waking up the rest of the family.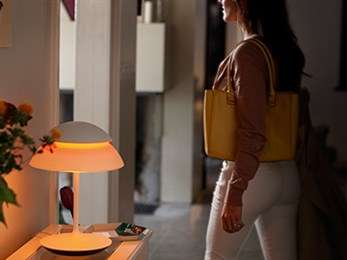 Integrated Daylight Sensor
Thanks to an integrated daylight sensor, your lights only turn on when it's needed. You can easily change the light sensitivity in the Philips Hue app, so the sensor only triggers when you need that bit of extra light. When no more motion is detected, the lights dim down before they automatically switch off after a selected time. The motion sensor also helps you to save energy by automatically turning off lights in areas that aren't being used.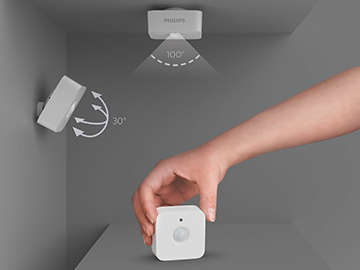 No Wires - Place it Anywhere
The motion sensor is battery powered, so completely wireless and easy to install anywhere in your home. Setting it up is done in a matter of minutes. Simply put it on a shelf, side table, or mount it to a wall or ceiling using the included screw. You can even attach it to metal surfaces such as your fridge, with the included magnet. You can easily adjust the detection angle by turning the sensor in the right direction.
You can connect up to 50 lights and various accessories to the Philips Hue bridge. Simply start with any of the available starter kits or a single bridge and start adding Philips Hue products. You can then control your lights at the swipe of a finger with the Philips Hue app. Hue controls such as the Hue dimmer swtich, Hue Tap and the Hue motion sensor. Philips Hue is based on ZigBee, a low power and reliable technology to control your lights. New features and improvements are continuously added to the system. Updates to both software and firmware are done wirelessly and seamlessly directly to your Philips Hue product.
---
We Also Recommend
---