Nanoleaf Aurora Rhythm Smarter Kit
The Nanoleaf Rhythm is an add-on module for your Nanoleaf Light Panels that upgrades them to a real-time music visualizer. The Rhythm makes it possible to see sound, visually remastering your music into animated displays of colour and light. With gorgeous colour displays produced by your own soundtrack, the Nanoleaf Rhythm creates an immersive symphony of light and music that's personalized just for you.

Works with iOS8 or later (HomeKit), Android 5.01 or later, Apple Home App, Google Assistant, Amazon Alexa, and IFTTT. The upgrade module requires a Nanoleaf Light Panels Smarter Kit to function.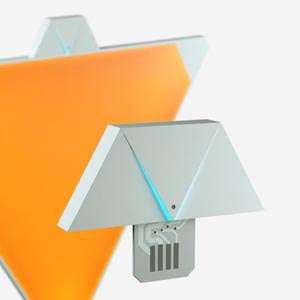 Fully Immersive Music Experience
Watch your playlist come to life. Experience your favourite songs like never before by transforming them into mesmerizing displays of colour.

Create and Share
Show off your creativity to the world! New 'Discover' tab in the Nanoleaf App lets you share new Rhythm Scenes created by yours truly, vote for favourites and curate personal playlists.

Rhythm Scenes
Eight preset animations available in App. Users can customize their own with animations and colours. Publish, share and vote for your favourites!

Community
Publish and share Rhythm Scenes you've created, vote for your favourites and create playlists to fit each mood and occasion life has to offer.

Voice Control
Just say the word and it's done. Works with Siri, Amazon Alexa and Ok Google. App and Physical Controller options also available.

Layout Detection
Unique technology in app displays each panel exact to its physical layout. Reconfigure to your heart's desire without disrupting the Aurora's intricate colour flow animations.

Open API + SDK
For the coders, create your own Rhythm Scene from scratch for a completely personal music listening experience.
---
We Also Recommend
---